Access to oxygen is critical to saving the lives of the most vulnerable newborns and children.
The COVID-19 pandemic has put unprecedented pressure on global supply chains, including the procurement of critical medical supplies, and oxygen concentrators are no exception. Oxygen concentrators are vital to saving the lives of COVID-19 patients and newborns around the world.
Why are Oxygen Concentrators Important?
Oxygen is a life-saving therapeutic medical gas commonly used to treat patients with severe pneumonia and other respiratory illnesses such as COVID-19.
An oxygen concentrator is an electrically powered medical device that first draws in air, removes nitrogen, then generates a continuous source of oxygen and delivers concentrated oxygen in a controlled manner to patients requiring respiratory support. The oxygen generator also has the advantage of convenient transportation, which brings convenience to users and medical and health workers. One oxygen generator can supply oxygen to two adults and five children at the same time.
Oxygen concentrators can support the treatment of severe COVID-19 patients. In the long term, it can also help treat childhood pneumonia (one of the leading causes of death in children under five) and hypoxemia (an important sign of death in patients).
UNICEF is working globally to overcome constraints and fluctuations in logistics, transport, trade and pricing, including working with governments around the world to consolidate demand and working with manufacturers, including those from China, to Long-term agreements for accepted pricing, capacity and a geographically diverse supply base.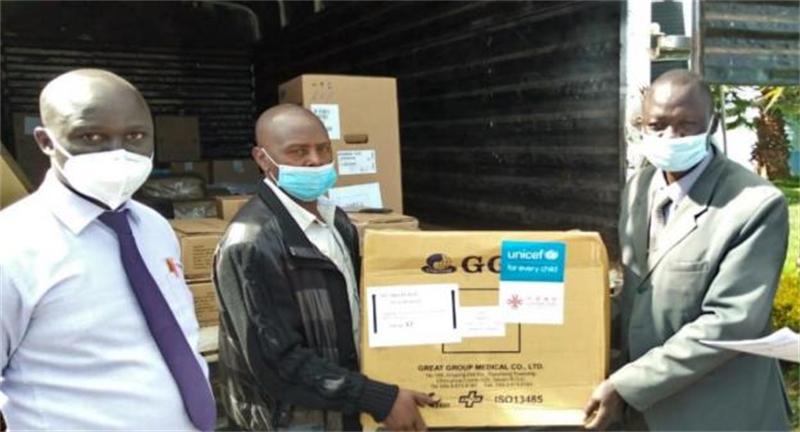 Respiratory support for COVID-19 patients:
About 15% of COVID-19 patients are classified as "severely ill" and require oxygen therapy, which is the uninterrupted delivery of oxygen from the nostrils. Oxygen is usually delivered through an oxygen concentrator in combination with a nasal cannula and can be used at the primary referral level in primary care or health care systems.
The COVID-19 pandemic has exposed the oxygen deficits faced by many low- and middle-income countries. For many children in the poorest countries, oxygen therapy remains an inaccessible luxury outside of urban hospitals and private healthcare facilities. Oxygen can also help with various medical emergencies, such as emergency obstetric (delivery) care, surgery, and anesthesia.
UNICEF purchases oxygen generators from China and other places:
By the end of July 2021, UNICEF had shipped 62,046 oxygen generators worth more than $46.29 million to 104 countries. Among them, UNICEF ordered 12,788 oxygen generators from a Chinese trading company, valued at more than $7.82 million.
Oxygen generators in UNICEF projects:
In 2020, with the support of the China International Development Cooperation Agency (CIDCA), UNICEF, in partnership with host governments, launched a series of initiatives to improve maternal , Newborn and Child Health Program. Oxygen concentrators are an essential commodity to ensure the health of mothers, newborns and children.
·In DRC, the country received two oxygen concentrators in early September 2020 and deployed them to targeted areas for safer childbirth in all healthcare facilities.
·In Ethiopia, the maternal and newborn health technical assistant who supported the project found during supervision that the primary hospital lacked key materials and equipment for NICU services, including oxygen concentrators, and has made overseas purchases based on this situation .
· In Kenya, 10 oxygen generators have been procured and distributed as needed to counties and subsequently to health care facilities to fill the gap in district and primary health care facilities in targeted counties.
· In Sierra Leone, oxygen concentrators have been installed and preventive maintenance guidance has been provided to paediatricians, medical officers and nurses in the infant intensive care unit.
· In Sudan, the country procured supplies, including oxygen concentrators, to support two demonstration centres, Sad Abu Elilah Hospital and Omdurman Maternity Hospital. In July 2020, during the joint supervision of UNICEF Sudan and the Sudanese Ministry of Health, staff noticed that the oxygen supply system in the neonatal ward of Omdurman Maternity Hospital was poor and agreed to maintain it to provide support.
In addition to the aforementioned China-funded maternal, newborn and child health projects, UNICEF is working around the world around the clock to ensure that life-saving supplies and equipment reach the most vulnerable. For example, after the spread of COVID-19 to the most remote areas of the Peruvian Amazon, UNICEF delivered 40 oxygen generators to the Peruvian Ministry of Health for distribution to the indigenous Amazon, Loreto and Uca Local health care center in the Yali area. Indigenous communities are among the epicentres of the outbreak in Peru, where supplies and assistance from UNICEF are most needed.
For COVID-19 patients and the most vulnerable newborns and children, equipment such as oxygen concentrators sourced from China is critical to saving their lives.